Drums Alive Sessions
"Choreographed Exercise to Music"
The Drums Alive Exercise program is up and drumming!!! Our certified instructor, Denise Doucette, offers one-hour session on Wednesdays from 5:30 to 6:30 pm. Using rhythm as the source of inspiration to discover a new group fitness experience Drums Alive® combines the benefits of a traditional physical fitness program with the brain affected benefits of music and rhythm. Drums Alive® is a program that fosters a healthy balance physically, mentally, emotionally and socially! Join a class and experience how it provides an element of fun and creative expression.
Drums Alive® is one of the latest innovations in fitness and wellness. Drums Alive® is a unique and different workout than you've ever tried before. It captures the essence of movement and rhythm combined with fun to deliver real fitness results! The choreographies are designed to burn fat, improve physical and mental fitness and above all, allow you to have some fun while doing it! If you've been meaning to do something for yourself and haven't joined us yet, feel free to jump in as certified instructor Denise Doucette continues to share this amazingly fun fitness program at St. Kieran Arts Center.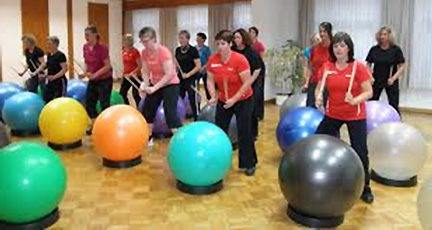 Participants are required to sign a release of liability prior to participation.
Wednesday evenings 5:30 to 6:30
$10.00 per class or $50 for a session of 6


Space is limited to 20 participants. Can't make all 6 classes? Feel free to join us on the days that you can: $10.00 per class. The goal of the program is to improve lives through a unique sensory-motor drumming program involving drum sticks, an exercise ball, and music. The primary goal of the Drums Alive® program is creating a "whole mind, whole body" experience for all participating. Drums Alive® will improve the quality of life for a wide variety of audiences; including mentally and physically challenged children; gifted and talented children; fit and healthy children and adults; children and adults with aggression issues; senior citizens; and patients with Parkinson's disease, Alzheimer's disease, stroke, and other life-altering conditions.
Improvements will come through the use of principles from movement therapy, music and sound therapy, physical education/fitness and rhythmic education. The program provides a platform for socialization and a sense of belonging to a group, which has shown to improve motivation and fitness adherence. It allows for individual and creative expression through both verbal and non-verbal communication, provides a healthy way to release aggression and decrease stress, focusing on acceptance, respect and understanding of different cultural movements, rhythms and music.
As with any exercise program, please check with your health care professional before making the commitment.
For more information about Drums Alive®, to purchase a membership or loyalty card or to make a donation to the annual or capital improvement funds, please contact the Arts Center at (603) 752-1028.